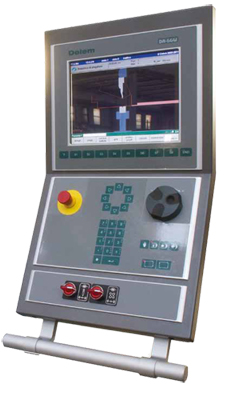 With over 30 years experience within the sheet metal industry we have gained valuable knowledge on all makes of CNC press brakes and shears, specialising In Delem and Cybelec controlled press brakes.
Having previously worked as a technician for Press and Shear UK in London, Ray Mailing, owner of the company, was employed primarily in an installing and training role on various makes and models of CNC press brakes and shears.Ray has attended a host of on-site manufacturer's certified training courses at various manufacturing plants throughout Europe.
Keen to make his knowledge and experience available to the Australian sheet metal industry, Ray formed Press and Shear Australia Pty Ltd in 2005.
At Press and Shear we are among very few people in the whole of Australia who can repair old type PROMECAM press brakes with old EMA – Da42 controllers.
Upgrades also available as well as complete overhauls and refurbishments at our factory. Since the mid '80s we have worked on DELEM from the old versions to the new Windows models.
Our experience also includes the DELEM V Bend V-Draw offline soft wear. On numerous occassions we have assisted with the successful installation of large machinery. Customised to cater for the customers' specific requirements, this has included the manufacture of personal formed tooling. In some cases we have included the application of robotics for high production components, maximising output and enabling manufacturers to reach high productivity targets.
At Press and Shear we carry a large range of spares and consumables to suit all applications of sheet metal machinery and stock items are available within 24 hours.